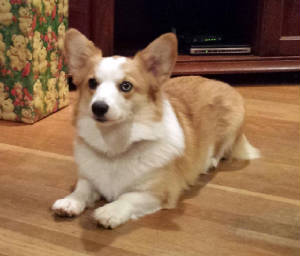 Britches & Cowboy female "Polly"
Hi Cathy,
With Polly's first birthday coming up I just wanted to give you an update. She is doing very well, just finished her second level of training. She can do lots of neat tricks now, as long as there are good treats waiting for her! She is a healthy 22lbs now. She loves going for walks and to doggie daycare where she gets to play all day with the other dogs. Thanks so much for everything!
Happy holidays!
Sarah, Chris, and Polly
Hi Cathy,
Polly is doing just great! We are still going to her social hour once a week and she loves playing with all the other puppies. The trainer there said she cant believe Polly was a singleton the way she behaves with other dogs and people. We start a more formal training puppy kindergarten class this weekend to work on sit, stay, down, and leash walking. It follows the AKC STAR puppy guidelines. She loves being outside now too that the weather is getting nicer.

Hope all is well with you!

Sarah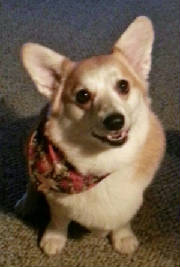 "Gracie" (Mini & Mickey)
Hi Cathy,
I just wanted to send you a picture of Gracie. She is now 51/2 years old and is the love of our life. She
was just groomed today. She is doing very well. We are still fighting the weight problem with her but hopefully we will win sometimes. I am so glad we were able to get her from you. She has brought so much joy into our lives as well as all of our friends. She has two names. One is Gracie and one is Hoover which my husband gave her and she answers to both. Her health is good and as you can see she is beautiful.
Have nice holidays
Marion Hatch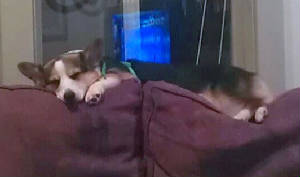 "Arlo" (Mini & Tripper)
Hi Cathy,

Just thought I would check in to let you know that Arlo is doing great. He is such a great little dog, and has worked out perfectly for us. He does still have some "puppy" behaviors, like chewing on shoes and paper (and anything else he can get his mouth on!!). I'll send you some updated photos at some point, he is so cute!

Anyway I noticed on the website that you are planning in breeding Britches this fall. We are not certain yet if we want another one but have recently begun discussing that Arlo may need a playmate. Do you have a waiting list yet?

Hope all is well.

Kristin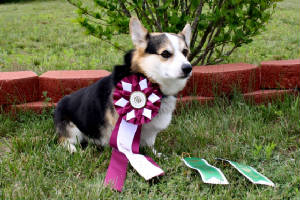 "Nash" (Mini & Tripper)
This week is the Mayflower corgi specialty. Last year Nash got his first MXJ leg here and today he finished it. He also earned his 5th QQ toward his MACH. Two weeks ago he finished his MX in the rain. He's now Cooper's Bridges of San Francisco CD MX MXJ CGC TR2.

Kristen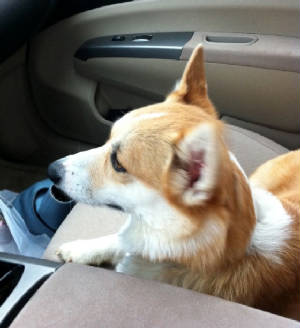 "Winnie" (Mini & Chance)
Hi Cathy! Hope you are doing well.
The family is doing really well, and Winnie is a big part of that. She has become a really important part of our family, and is very attached to us now. She likes to ride with me in the car on short errands (when it's not too hot), and she sleeps at the bottom of our bed. Winnie's training is going really well - she gets better behaved all the time. She is good at sitting, lying down, staying, and giving paws. We are working on stopping her barking when she thinks she hears people at the door (which happens tons more than people actuallying coming to the door!) Her behavior is always better after exercise, so we walk her a lot and play with her in the backyard. She has become a big frisbee dog - she loves to run after the frisbee and has gotten a lot better recently at catching it. Winnie and Nora are really sweet together, and enjoy playing in the house when Nora gets home from school.
Attached are some photos of Winnie, in the car, bringing the frisbee back, and sitting in our basement. She has lost most of her black fur and looks mostly red/white now.
How are you doing? How are Mini and Britches? Maybe one of these days we can come over and visit, or have a reunion with Winnie's sisters. Take care!
Best,
Martha Culver (and Ken, Nora and Winnie)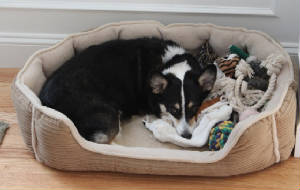 Ally (Mini & Shorty)
Hi Cathy,
Greg and I were just poking around your website and I thought I'd send along a picture of Ally. She is pretty OCD and loves hoarding her toys in her bed. Then when she wants to play she brings them out one at a time and will drop them at our feet. She loves the tennis balls. They get 'lost' and she pretends she doesn't know where they are. But she is smarter than us! Tell her to find tennis ball and she looks at us to find one. When we can't and give up lo and behold she is there dropping one at our feet. Hard to believe she will be 4 years old in November! We just can't imagine life without her. I have had several medical issues in the last year and she is so protective of me. Always worried about Mommy. Always there with a kiss or just lying at the side of the bed. I think we're thinking of adding another!
Hope all is well.
Joanne and Greg
Enter content here