Mug Shots
Males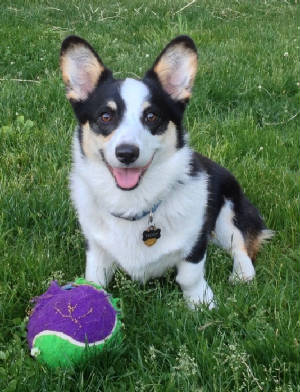 Navy ribbon male "Teddy" SOLD
Hi Cathy!
I was just perusing your website- looking at the photos of Teddy's brothers and sisters and was amazed that his brothers have light faces- and he seems to look more like his Dad and his sisters! They are all so beautiful! I may be biased but I think Teddy is the sweetest and most well behaved corgi anyone has ever seen! Your dogs have such wonderful temperament. He really is the perfect dog for me, can't thank you enough!

Heather Richards
Hi Cathy!
Just wanted to send you a few quick pics! Teddy going home, Teddy meeting Aksel, and Teddy walking on his leash like a champ! I don't want to jinx it, but he is pretty much already coming when called, and walking on the leash really well! We're going to have to build so many agility activities! Thanks again, everyone loves him already! <3
Heather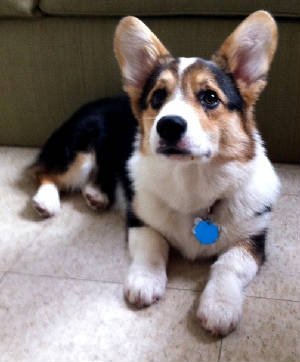 Blue ribbon male "BamBam" SOLD
Hi Cathy,
Bambam is doing great! He just got fixed last week, so he's currently a cone head which is funny to watch. He's extremely smart and has learned tons of tricks. People tell me all the time that he is so well-behaved for how young he is. He has tons of energy and loves going to the park to play with other dogs. At home, he's my little shadow following me everywhere we've both grown so attached.
He has an instagram: @bambamthecorgi (
http://instagram.com/bambamthecorgi
). There are tons of pictures of him there. I've included a few of my favorites. He's turning into such a handsome man!
Happy 2014!
Best,
Natalie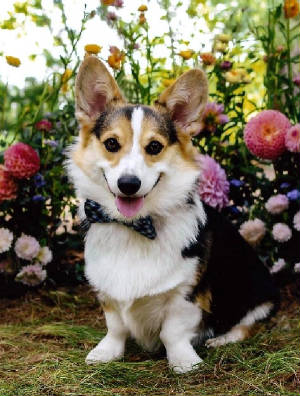 Orange ribbon male "Oreo" SOLD
Hi Cathy,

We had a new professional picture taken of Oreo a couple of weeks ago at our dog park fundraiser. He is as handsome as ever!
He is doing really well and sometimes a bit to smart for his own good. We are still taking him to training classes on Saturdays. We
are in a Better Manners class now where he is learning to tolerate bikes, basketballs, skateboards and other items that drive him crazy.
He has been a great addition to our family and we love him.
Andrea
Hi Cathy,

We just got this photo taken of Oreo at our local Doggie Daycare center and had to share it with you. He has grown so much
and is a bundle of energy but loves to cuddle at times.
He goes to Doggie Daycare at least once a week and loves to go and play with the other puppies there. We love him and are
so glad he is part of our family.
We can't wait to see pictures of new pups on the way from his Mommy !
Andrea
Hi Cathy,

Just thought I would send you some up dated photos of Oreo to show you how big he is getting. He is seeing snow for the first time today and loving it. He also went to Santa today where he goes for play dates and dog training classes. He wasn't totally sure of Santa but loved the idea of playing after his visit.
Happy Holidays!
Andrea
Hi Cathy,
I just wanted to send you an updated picture of Oreo and let you see how big he is getting. He is still running around and tends to think he owns the place. He loves his bed and when he's tired after a day of playing, puts himself to bed. He keeps us smiling and laughing. He is doing much better with the biting of us and is making friends with some of the new puppies in the area.
Andrea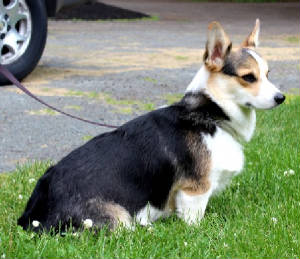 Green ribbon male "Barney" SOLD
Hi Cathy,
Here is a couple of Barney boy pics! He is such a lovey boy! He loves his walks and is a doggey celebrity
in the neighborhood.
We will send you a check for $100 deposit
for a little girl Corgi if Britches has more girls this time.
Hope all is well with you and your family!
Kathy and Dick

Hey Cathy,
Sorry it's been so long. Barney keeps us hopping!
He is doing very well and socializing nicely. He went to his first puppy kindergarten
class last Monday. He is very smart and is learning fast. My Kathy loves him to pieces!
She has the corgi bug now! We were thinking about taking a trip to New Hampshire at some point.
Could we stop by for a quick visit so you can see Barney? Do you suppose there might be some interest
in reaching out to the other owners for a get together in the future? Maybe a park or something I was thinking next spring.
Here are some new pics too!
Hope all is well!
Dick Kuehn and Kathy Quoi