Pups pictured below at 8 weeks old
Blue ribbon male "Fletcher" Sold
Hi Cathy,
I wanted to send you an update on Fletcher and send a thank you for giving us our baby. We are so happy and he is such a good boy. He's so unbelievably smart, sometimes I'm shocked. He's already learned how to sit, stay, lay down, give high fives, double high fives, shake, and dance with mommy. I'm still working with him on other tricks. We haven't had any of the issues you read about with some puppies. He always loved his crate, sleeps great, and today we went swimming for the first time and he took to the water like a fish, I was actually shocked.
I don't know how big the other puppies are but at his last visit he was 10 pounds about three weeks ago and he goes on Monday to get his next round of shots and we think he's going to be 12-13 lbs. He's growing like a weed and getting so big.
Just wanted to send you an update and some photos of him. We love him so much and he is adjusting to his new life so well. His favorite past time is chasing the cats and they play with him now so it's super cute.
Thanks again,
Nicole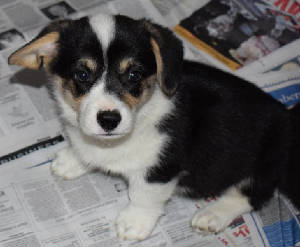 Green ribbon male "Tobias" Sold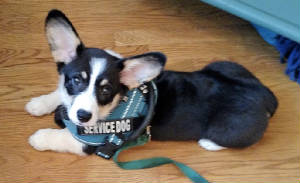 Pink ribbon female "Joule" Sold
Hi Cathy,
Here's a "quick" update, I would really need to send an entire chapter of this incredible journey... I'm always amazed at how quickly and eagerly Joule learns. Granted, she's feisty like her human mom and has been quick to learn darn near everything including and most importantly her scent-imprinting for glucose levels. Her diabetic-alert-dog training is far ahead of schedule. Just by having her around, my levels have begun to stabilize in one short month. In addition, her "basic" acclimation training is going smoothly as well... She had a few little mistakes (my fault for looking away) her first few days home. Absolutely no other mistakes since... yet, lots of mischievous antics that I so adore... A hound after my own heart!!! She learned basic commands: sit, down, look, come, no (<that one took a bit longer :-)) etc... her first week that we repeat consistently, and she is getting better at spin (a theatre move)), stay (in the presence of food/prep for public access test), and integrating herself into my theatrical science programs. We hit the road with programs again in September...She has already been visiting client sites with me for socialization purposes...My website should be updated with her by this weekend:
jtvannah.wixsite.com/jtvscience
We have been on socialization missions daily since she came home. She absolutely loves other dogs (especially big ones, notably Shepherds), people, and exploring EVERYTHING!!! My vet calls her Braveheart since she has great courage and fears absolutely nothing!!! I LOVE SOOOOOOOO MUCH ABOUT HER!!!! She loves outdoor theatre, walks around the woods, and we've been practicing her boogie board balance at home, and looking forward to testing it out on the water soon.
I've attached a few pics... Enjoy! I have 100s of pics and videos... Need to buy more memory to store it all - LOL!!!!
JT & Joule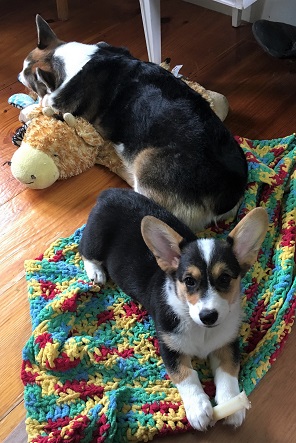 Purple ribbon female "Winni" Sold
Hi Cathy,
Just wanted to check in and let you know Winni is doing great. She slept through the night right away, and has housebreaking about 75% figured out.
Arlo is training her in the yard and he loves her. They play and get along so well. She is great!
She gained 3 pounds in the 3 weeks and the vet said she is a "confident and adventurous pup".
Anyway, she settled right in with no trouble at all.
Thanks!
Kristin